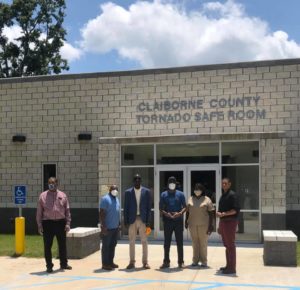 The County Emergency Management is a multi-functional agency whose primary duty is to prepare, respond and recover from several types of natural, man-made and technological disasters that may occur in Claiborne County. These disasters include severe weather emergencies such as large thunderstorms, tornadoes, floods, large fires and hazardous materials incidents.
Director: Marvin Ratliff, Sr.
Contact: 601-437-4684
Claiborne County Executive Order #11
Based on Executive Order #11, below are the list of requirements for businesses and establishments. These requirements are mandated by the leaders of Claiborne County.  Please see below:
Imposed curfew from 12 a.m. – 4 a.m.
Masks REQUIRED in all businesses/establishments.
Continued social distancing of 3-6 feet
50% inside capacity of gatherings based on sq. ft.
75% outside capacity of gatherings based on sq. ft.
Public schools to operate at 100% capacity unless stated otherwise.
Requirements are subject to change as information is received from MSDH. Continue to practice frequent hand washing/sanitizing. For information on setting appointments to receive the COVID-19 vaccine, please call 601-437-4684.
Click here to view/print Claiborne County Executive Order #11 – PDF